Группа
Vulnerabilities in Quantum Systems
Principal applied investigator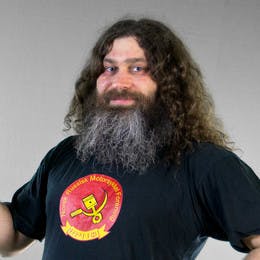 Vadim Makarov
Visiting Professor at University of Science and Technology of China (USTC)
The "Vulnerabilities in Quantum Systems" group Principal Applied Investigator
Участники группы
Mikhail Petrov

Poompong Chaiwongkhot

Anastasia Ponosova

Konstantin Zaytsev

Darya Ruzhitskaya
It is more interesting to break than to make!
The main direction of research for the group is testing practical security of quantum communication systems, finding and demonstrating new loopholes, and helping to develop and test countermeasures. For example, quantum cryptography is absolutely secure in theory. However, practical implementations often deviate from the theory description, which leaves loopholes for eavesdropping. By openly publishing all our results, we ensure hardening of quantum communication technology against all possible attacks. This work will also contribute to certification standards for quantum communication equipment.
Website of the lab – http://www.vad1.com/lab/
Направления исследований
Security analysis of quantum networks
Certification standards and documents development
Наши успехи
июнь 2001
The first publication of Vadim Makarov and colleagues, Journal of modern optics
март 2007
Vadim Makarov received Doktor ingeniør degree at the Norwegian University of Science and Technology
август 2010
Publication in Nature Photonics (one of the first)
май 2018
Moving the laboratory from the University of Waterloo to the RQC
октябрь 2018
Start of work in the RQC
октябрь 2018
The opening of the direction within The National Technology Initiative (NTI) "Quantum Communications" at NUST "MISiS"
Лаборатория группы «Vulnerabilities in Quantum Systems»